· The Montserrat Rack and Funicular, the Tren del Ciment and the Montsec Astronomical Park also receive this recognition
The mountain stations managed by Ferrocarrils de la Generalitat de Catalunya (FGC) have obtained the AENOR quality certificate as safe spaces in front of the Covid-19. This recognition certifies that the protocols and measures implemented by FGC Turisme since the beginning of the health crisis, aimed at minimizing the risk of infection, are appropriate.
Based on the recommendations of national and international bodies, AENOR has certified the management of FGC in the face of the risks arising from Covid-19, with a complete and rigorous analysis of all the measures that Ferrocarrils has applied in different areas such as of cleaning, disinfection or signage, always ensuring the safety of both users and staff of mountain resorts.
FGC Turisme is also working to certify the 6 mountain resorts with the "Safe Tourism Certified" seal, promoted by the Instituto para la Calidad Turística Española (ICTE).
A safe winter in the FGC mountain resorts
The Railway Tourism Division of the Generalitat de Catalunya (FGC) has designed a prevention plan in the face of the Covid-19 pandemic to guarantee, both to users, local citizens as well as to the staff of mountain resorts , which are in a safe environment.
A series of measures have been defined in terms of prevention and awareness that will be applied to the 6 resorts of the group (La Molina, Vall de Núria, Espot Esquí, Port Ainé, Vallter 2000 and Boí Taüll) once the weather conditions and of snowfall, on the one hand, and the conditions marked by the evolution of the Covid-19, on the other, allow to open them.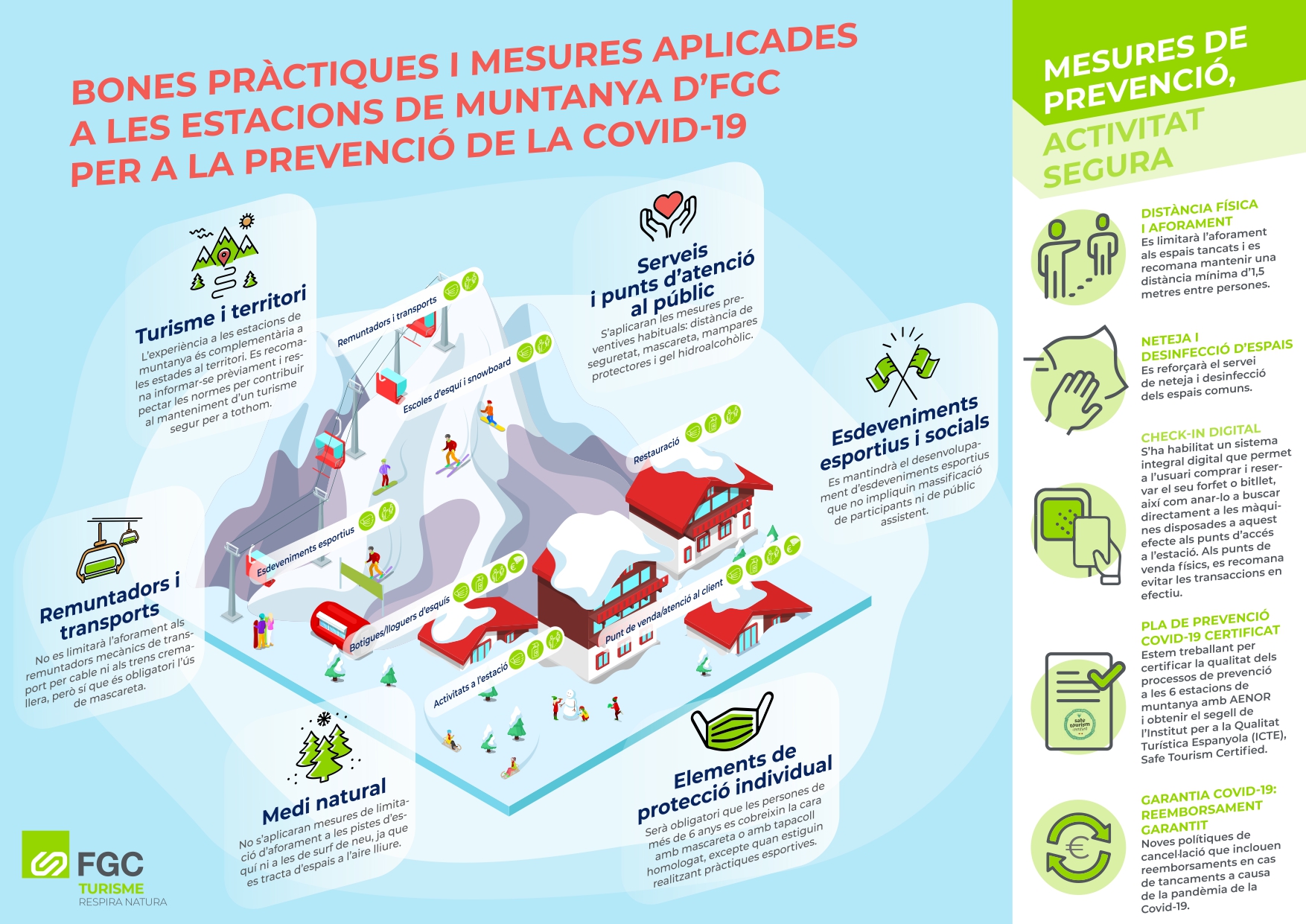 KNOW THE MAIN PREVENTION MEASURES AT FGC TURISME STATIONS HERE
FGC TURISME IS SAFE TOURISM: FIND OUT MORE HERE